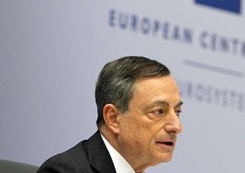 Mario Draghi's latest bid to revive the eurozone economy by extending unprecedented monetary easing yesterday failed to impress markets that had bet on even more.
The European Central Bank pledged to continue its 60bn-a-month bond buying programme for another six months until March 2017 "or beyond". Policymakers also cut a key interest rate to a historic low of minus 0.3 per cent and agreed to buy more assets with the proceeds of its existing bond purchases.
But these measures — supported by a decision to buy municipal bonds in addition to standard government debt — disappointed investors who had hoped for deeper rate cuts and more monthly bond purchases.
The announcement prompted a sell-off in equity and bond markets and the euro climbed to a one-month high against the US dollar.
"The ECB delivered at the very low end of expectations," said Andrew Balls, chief officer for fixed income at Pimco. "There wasn't much to get excited about... were expecting an increase in the monthly purchase size."
Some analysts were less critical. "The decisions reflect the desire to keep some powder dry in case more stimulus is needed down the road," said Marco Valli, economist at UniCredit. "Keeping the big bazooka for another day may not be a bad strategy. It just needed better communication. "