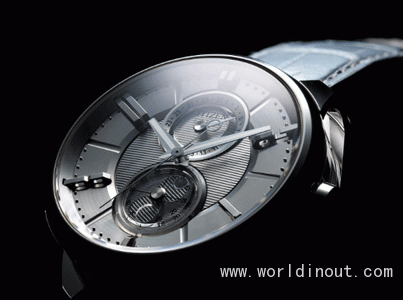 After a hesitant start, ecommerce finally looks ready to play its hand in the luxury watch market.
A recent report published by the consultants McKinsey forecasts that the global luxury ecommerce market is nearing its tipping point and by 2025 online purchases of luxury goods will account for 18 per cent of sales across all categories — three times the current figure.
The report suggests these sales will be worth about $70bn annually, making ecommerce the industry's third-largest market after China and the US.
Looking at luxury watches, and judging by today's figures, that would require a significant shift in consumer behaviour over the next decade. According to eMarketer.com, the UK has the world's highest proportion of online shoppers, with 74.3 per cent of the population buying online this year. And yet research from GfK Tracking suggests that only 3 per cent of watches valued at more than £1,500 are currently sold online in the UK.
The watch industry has been slow to adopt ecommerce. Historically, watch brands actively discouraged consumers from purchasing their products online. The internet was once no more than a breeding ground for counterfeiters and grey market dealers offering hefty discounts. The feeling was also that the digital space could not recreate the in-store experience delivered by luxury showrooms. But the mood has changed: brands and retailers now agree that McKinsey's predictions are achievable.
"Online, we offer personalised service, but also personalised research," says Brian Duffy, chief executive of Aurum Holdings, which operates watch retailers Goldsmiths, Mappin & Webb and Watches of Switzerland.
"As a result, our ecommerce business is up by 78 per cent this year, click and collect is up 40 per cent and the average price of a luxury watch we sell online has increased by more than 40 per cent since 2011."
David Coleridge, chairman of DM London, parent company to The Watch Gallery and concessionaire to Selfridges and John Lewis, reports a similar shift. "The Watch Gallery's online sales doubled in 2014. I don't see why ecommerce couldn't account for 18 per cent of the market total within 10 years, perhaps within five."
The question is therefore no longer whether online sales of luxury watches will grow, but who will take the lion's share. Multiple retailers have been pushing ecommerce hard in recent years, but have often met with resistance from brands. Rolex, for one, is yet to open up its business to online outlets, but when it does, it will have a significant impact on the landscape. The brand is believed to account for more than 20 per cent of the UK market alone — taking its business online would transform the fortunes of Rolex stockists with transactional websites.
Not all brands have been so reluctant. By industry standards, TAG Heuer was an ecommerce early adopter, opening its own online boutiques two years ago.
"Ecommerce is part of the behaviour of the new generation," says Jean-Claude Biver, TAG Heuer's chief executive. "When that generation become buyers of luxury items in 10 to 15 years' time, will they adapt their behaviour to 20th-century habits? No way! They will buy any product online. We won't be able to impose old distribution methods on them."
Indicative of this is the role played by emerging luxury online retailers such as Net-A-Porter offshoot Mr Porter, which brings content and retail together in a consumer-focused package.
Last month, the fine watchmaking brand Zenith signed up to Mr Porter. "This is a test for us," says Aldo Magada, Zenith's chief executive. "We will see if the service and education through Mr Porter is as good as through our best retailers."
Mr Magada says he has no sales targets for his latest venture. More important is to harness the potential of Mr Porter's database and to ensure Zenith becomes a known brand as the digital luxury market develops. "Buying luxury watches online will become normal," he says. "Especially when they're a known product. With unknown product, nobody will take the risk."
Mr Porter began selling luxury watches two years ago when it collaborated with Bremont, the young British watch company. "There's a perception that online there's a price ceiling, but it's a complete fallacy," says Toby Bateman, buying director at Mr Porter. "Yes, there's a sweet spot between £4,000 and £7,000, but if the product's right it will sell." Mr Bateman says that sales of Bremont watches through the site have risen 30 per cent in the second year of trading and that two or three further high-end brands will join in 2016.
This evolving landscape has prompted even the most reluctant players to consider a more aggressive online strategy.
At the FT Business of Luxury summit in June, Richemont's executive chairman Johann Rupert announced he had spoken to rival groups LVMH and Kering about creating a shared online sales platform. Despite its stake in Net-a-Porter and Mr Porter, Richemont has been slow to embrace ecommerce, although its Cartier and Jaeger-LeCoultre brands both retail some products through their own websites.
Whether these ecommerce portals will coexist, or whether one model will dominate remains unclear.
"The stronger the brand and the higher its awareness, the more people will want to buy on the brand's own site," says Mr Biver at TAG Heuer, who is currently investing in a marketing strategy targeting what he calls the "tomorrow customer".
However, at Aurum, Mr Duffy sees it differently: "The multi-brand retailers will develop more. People like choice and comparison."