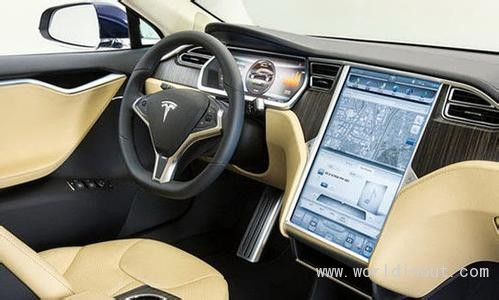 Tens of thousands of Tesla owners will get their first taste of autonomous driving technology this week when the electric carmaker pushes out its "Autopilot" software update.
Up to 60,000 Tesla Model S vehicles already have the hardware required to run the software, which will allow the car to automatically steer within highway lane markers, change lanes and parallel park.
A year ago, Tesla began building a dozen sensors, radar, forward-facing image-recognition cameras and advanced GPS navigation into its Model S. For customers with those vehicles, enabling Autopilot costs an extra $2,500, after installing a software update available in the US from Thursday. Regulatory approval is still pending in Europe and Asia.
Elon Musk, Tesla co-founder and chief executive, told reporters at an event in Palo Alto on Wednesday that his ultimate objective was to create a car that behaved like a "really good chauffeur".
Tesla is racing Silicon Valley rivals such as Google and Apple, as well as traditional automakers including Audi and BMW, towards a future of completely autonomous cars, which Mr Musk now predicts will be technically possible — if not necessarily legal — by 2018.
"I'm quite confident within three years the car will be able to take you from point to point — from your driveway to work without you touching anything," he said. "You could be asleep the whole time and do so completely safely."
However, he said regulatory approval for this could take "several years" depending on the local authorities.
For now, Tesla is warning drivers as they install the version 7.0 software update that they still must concentrate on the road at all times.
"We are advising drivers to keep their hands on the wheel, just in case," Mr Musk said. "It's very important that people exercise caution because the software is very new."
In any accident, the driver remains liable, he added.
Mr Musk said that Tesla's ability to collect and share detailed navigation data between cars, via their wireless connection to its central database, gives it a unique advantage in creating a reliable experience.
"The big differentiator here is that the whole Tesla fleet operates as a network," Mr Musk said. "When one car learns something, the whole fleet learns it?.?.?.?It should get better with each passing day."
Autopilot is enabled by tapping twice on a button to the left side of the steering wheel. To change lanes, the driver flips the indicator and the car navigates between adjacent vehicles.
A new dashboard display, also part of the software update, shows the car's position relative to other traffic on the road, flashing yellow when a nearby obstacle is detected.
"It's a real boon in high-traffic situations," Mr Musk said. "In slow moving gridlocked traffic you can turn on Autopilot and it works super well — almost to the point where you can take your hands off. Some people may — we don't advise that."