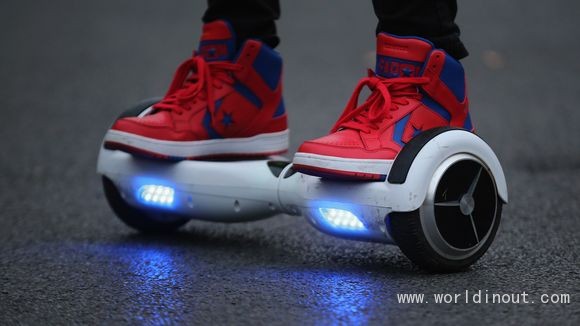 "In the interest of safety for our customers and employees, we do not accept hoverboards as checked or carry-on baggage," added United spokesman Charles Hobart.
That left hoverboards off-limits at each of the USA's three biggest airlines. JetBlue, Hawaiian Airlines and Virgin America had already moved to ban them. Southwest, the nation's No. 4 carrier, said they would be allowed for now, but that the company was evaluating the developing situation.
"It is preferred that personal transport devices are treated as a carryon item," Southwest said in a statement to Today in the Sk. "However, if its size prohibits the device from being carried on, it must be protected from accidental activation and transported in checked baggage."
The carrier noted that "personal transport devices and other similar electronic devices containing dry cells or dry batteries ... may be transported as long as the battery size requirements are met (the lithium-ion or lithium polymer battery cannot exceed 160 watt-hours)."
The moves follow a week in which videos showing hoverboards bursting into flames have made the rounds on social media.
Against that backdrop, American, Delta and United join a growing number of carriers that have decided not to allow the devices.
JetBlue was among a handful of U.S. airlines that had already prohibited hoverboards.
"Due to federal regulations covering lithium ion batteries, JetBlue does not accept Balance Gliders — also known as Hoverboards, Self-Balancing Scooters or Gravity Boards — as carry-on items or in checked baggage," JetBlue spokesman Doug McGraw said in a statement to Today in the Sky.
Beyond the U.S., British Airways is among the global airlines to ban hoverboards, a move that The Wall Street Journal says comes as aviation safety organizations have begun discussing how to handle the devices.