Key Features
: 2x bass drives, 2x treble drivers; Bluetooth; 12-hour battery
Manufacturer: Beats by Dr Dre
What is the Beats Pill+?
The Beats Pill+ is a small wireless speaker. However, it's totally different to the Pill and Pill 2.0 that came before.
Slightly larger and using bigger bass drivers, the Pill+ is the first small Beats speaker that really sounds bigger than it is. It's a very significant, long overdue upgrade.
It's nice not to have to tell people to run for the hills as soon as they see a Pill+. But the Beats Pill+ isn't quite as good as the best at this size in several areas. And that's an issue when, at $229 (likely to equate to around £179 in the UK) in the US, it's one of the most expensive choices in its class.
image: http://img.worldinout.com/img/201512/16/133456904.jpg
Beats Pill+ – Design and Features
The Beats Pill+ looks very similar to the Ministry of Sound Audio S Plus I reviewed recently. I'll put my hands up to this one: I didn't twig that the Ministry set is largely a copy of this one, because, while there has been some rumbling about the Pill+ in the US, it's a newborn in the UK.
Its look and feel are both great. The design is minimal and smart, while still looking a bit more youthful than the Bose Soundlink Mini II, whose looks you – well – grow to appreciate.
This is a hefty-feeling speaker. It's 750g and its rubberised outer parts make the Beats Pill+ feel like it's made out of something a bit more substantial than basic plastic.
image: http://img.worldinout.com/img/201512/16/133456544.jpg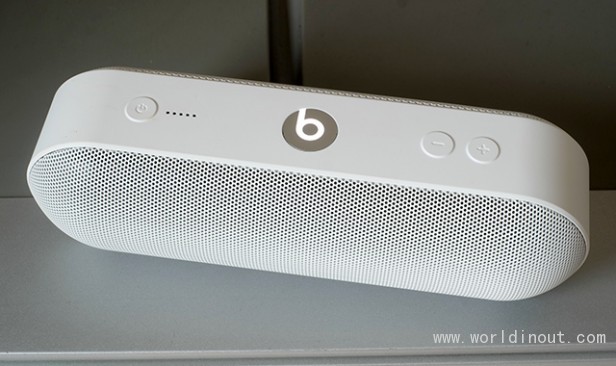 Being a Beats product, the Pill +was never going to be cheap. And ultimately it's simply a 'nice' looking and feeling thing rather than one that takes the category forward.
The one feature it does offer over most others is very convenient water resistance. A neat little rubbery flap on the back plugs-up the Lightning charge port, 3.5mm aux input and the full-size USB. It's splash-proof, so while the Pill isn't outright rugged, you don't need to actively look after it either. There are no seams in the rubbery buttons on the top to let the side down either.
image: http://img.worldinout.com/img/201512/16/133456814.jpg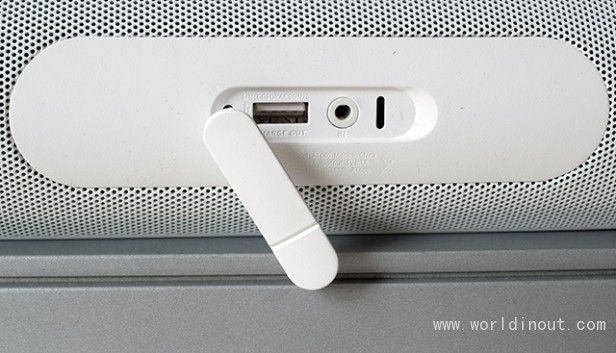 There are also a couple of things to note about the Pill 's rear connections. This is the first Beats speaker to use an iPhone-style Lightning charging socket. It comes with a charge cable but the post-Apple-acquisition message is clear: Beats now officially loves iPhone owners more than Android fans. Deal with it.
The full-size USB on the back is far more platform-agnostic. It lets you charge your phone using the Pill 's own battery, but don't expect super-fast charging. It'll only output 1A where some of the top phones have 2A or even 3A chargers. Still, it's all I've ever seen in a speaker charger like this.
You'll get up to 12 hours of music off a charge, although as with any portable speaker that figure will drop significantly if you listen at high volumes.
image: http://img.worldinout.com/img/201512/16/133456934.jpg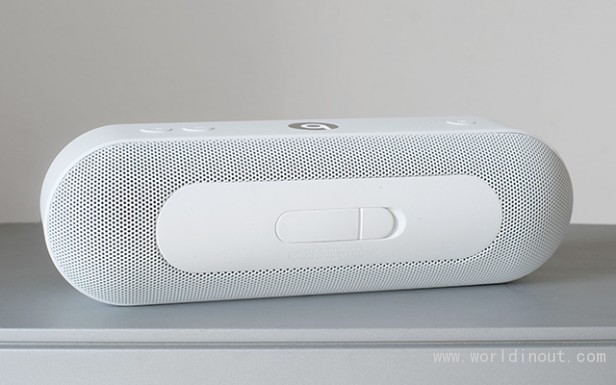 In case you're new to portable speakers like this, the Beats Pill+ uses Bluetooth to connect with your phone or tablet. It's very simple to connect, but means it has nothing to do with AirPlay streaming or Wi-Fi. Being an Apple product, the Pill also lacks aptX support. iPhones are yet to adopt it. There's no NFC either. Funnily enough, both of these featured in earlier Beats speakers. Welcome to the Apple effect.
AptX is a higher-resolution wireless audio format than the SBC Bluetooth normally uses, although I'm not going to mark the Pill+ down much for not using it. Ultimately at this level of speaker using good drivers and sensible tuning is far more important.
Wireless features are a little stripped-back, but there is one neat extra. Using the Pill app you can pair up two of these speakers, and either have them both playing the same feed or make them act as a stereo pair. I've only been using the one speaker so I haven't tried this, and I imagine most buyers will only snag a single one anyway.
However, it's a nifty feature if you live in a multi-Pill+ household or have a friend with one of these. The 'DJ the Playlist' feature also lets two people control the playlist from two Bluetooth devices.
image: http://img.worldinout.com/img/201512/16/133456134.jpg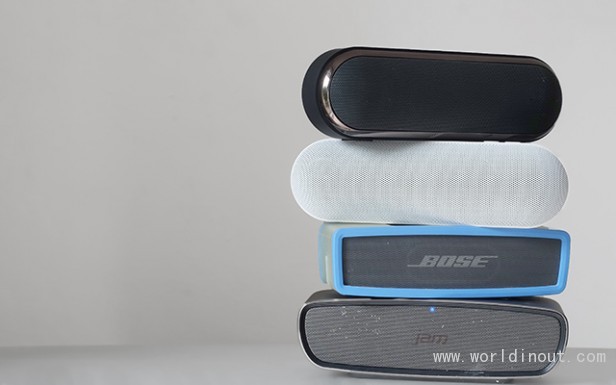 Beats Pill+ – Sound Quality
How good does the Beats Pill+ sound? For those familiar with the range, the best answer is: much better than its predecessors.
Where the Pill and Pill 2.0 use a whole array of tiny drivers, the Pill finally adds a pair of larger bass drivers in the middle to avoid it becoming the tinny mess the earlier Pills are. It works, for the most part. On first listen I simply assumed the speaker had a passive radiator, which is what 90% of speakers this size use to create bass despite their tiny stature.
image: http://img.worldinout.com/img/201512/16/133456724.jpg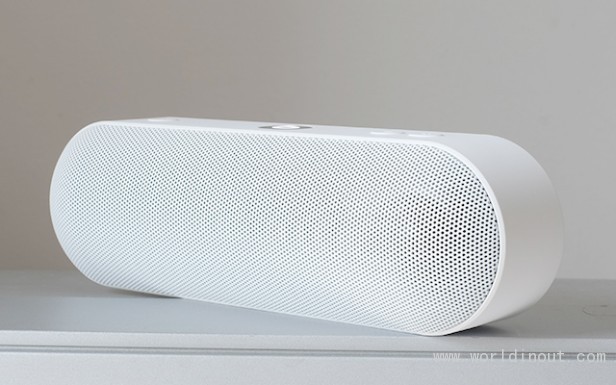 The Pill+ victory also disperses its sound quite widely. This is because it mounts its 'tweeter' drivers on the further reaches of each side of the speaker's front, at a slight angle according to Beats's diagrams. There no word of the clever psychoacoustic nonsense Bose uses to get the same effect in the Soundlink Mini II, but it works fairly well. The sound isn't too directional and can have a stab at filling smaller rooms.
Tone-wise, Beats seems to have aimed to make the Pill as loud and ferocious as possible. This isn't about bass: the Pill actually sounds less bassy than the Soundlink Mini. It is pretty loud, though, and has a much more aggressive mid-range that really spits vocals out at you more than any other speaker in this size class.
However, there are problems. There's a relatively narrow volume 'sweet spot' where the Pill sounds its best. Turn the volume down low and, as is so common in small non-radiator-equipped speaker, the bass loses much of its weight. Keep it quiet and the Pill ends up sounding smaller than many cheaper alternatives.
image: http://img.worldinout.com/img/201512/16/133456584.jpg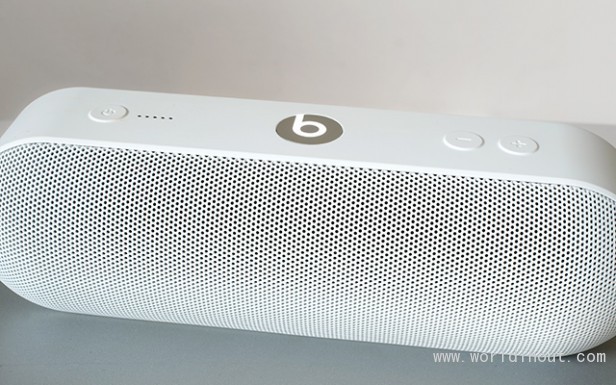 The real weakness of the Pill , though, is what happens when you turn the volume up to 70% or above. Its mids become quite harsh and abrasive, making the output grating and not all that nice to listen to. It may be loud, but the Pill just cannot handle its own output without sounding bad.
At all volumes the Pill also struggles to deliver lower-frequency deep bass at the scale/size of a speaker with a radiator. That's the beauty of using a passive radiator, it means the bass isn't as limited by the back-forth motion of the main drivers. Even if that is still ultimately what powers it.
The Beats Pill gets you a good impression of detail and, like the Beats Solo 2.0, there's a certain aggressive attack to the sound that can seem energetic when the volume is at the right level. However, that doesn't leave the speaker with as natural a sound as the Bose Soundlink Mini II, and ultimately sound isn't as tonally well-separated as most of the best contenders in this class.
image: http://img.worldinout.com/img/201512/16/133456974.jpg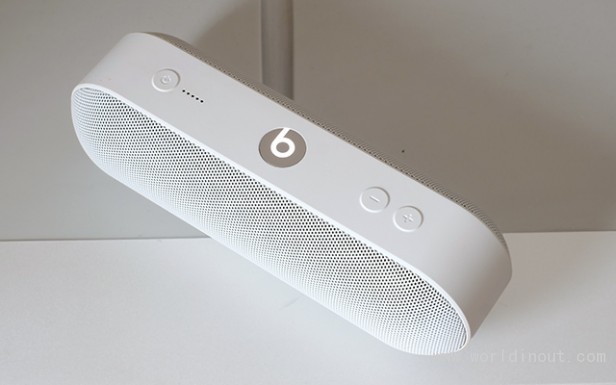 Should I buy the Beats Pill+?
The Beats Pill is one of the loudest speakers of it size. If pure volume is the goal, go crazy. However, it doesn't sound anywhere near as good as the best in this field at the extreme ends of its volume scale. Its harsh and strained at top volume and lacks bass punch at low volumes, as it doesn't have a passive radiator. At mid-level volumes it sounds decent, but not jaw-dropping. Its smart splash-proof design is more impressive than the sound itself.
Sound quality is fine, but it's far less well-controlled than the best at this size, and its omission of a passive radiator when it can solve so many small-speaker problems is baffling. How much harder its drivers have to work as a result means that the Pill is shown up pretty seriously by the £59 Jam Heavy metal at high volumes. And that's embarrassing for a £150-plus speaker.
Verdict
It's much better than the first two small-scale Pill speakers, but it's not quite good enough to get close to matching the best on sound.