Key Features
: 36.3mm diameter face; 11.5mm thickness; Fits wrists up to 195mm; Weighs 37g; Water-resistant to 50m; Operating temperature -10 to 45 C; Vibration alarm; Step, run, swim, sleep tracking; 8-month battery life
Manufacturer: Withings
What is the Withings Activité Steel?
Despite the Apple Watch's relative success, smartwatches have struggled to put a dent in the Swiss watch industry. It's simple – very few people are willing to adopt yet another device that demands daily charging. That's exactly why French firm Withings has embraced the "if you can't beat them, join them" strategy of peddling classic wristwatches – albeit with a few hi-tech perks.
The Withings Activité Steel is the company's third wearable. It's more chic than theWithings Activité Pop (£120), but leaves out the ritzy materials flaunted by theWithings Activité (£320). Despite the differing exteriors, however, all three watches have the same impressive roster of health-tracking credentials – steps, running, swimming and sleeping.
image: http://img.worldinout.com/img/201512/16/134146244.jpeg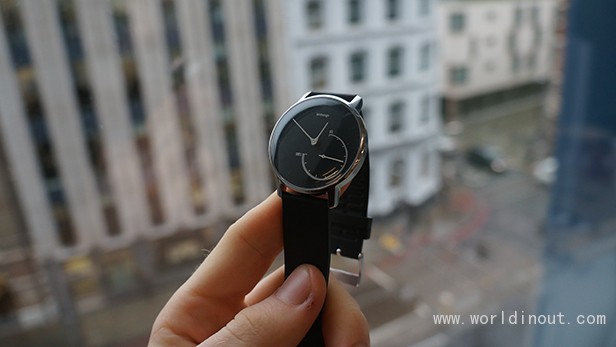 Related: Best Smartwatch 2015
Withings Activité Steel – Design & Features
If you're wearing something on your wrist everyday, you want it to look good. Fortunately, the Withings Activité Steel is as attractive a smartwatch as they come – just like its predecessors.
It retains the stainless steel case of the Activité, but eschews the sapphire glass – hence the huge price difference. This might make a slight difference to surface hardness, but you'd never know at a glance.
Black is the only colour option this time around, and the strap is made from silicone, not leather. The Activité Steel has standard strap lugs, though, so you can easily swap out the rubbery band for something more premium. The advantage of the silicone strap is that it's fine to get wet – good news, since the Withings Activité Steel is fully waterproof to a depth of 50m.
image: http://img.worldinout.com/img/201512/16/134146794.jpeg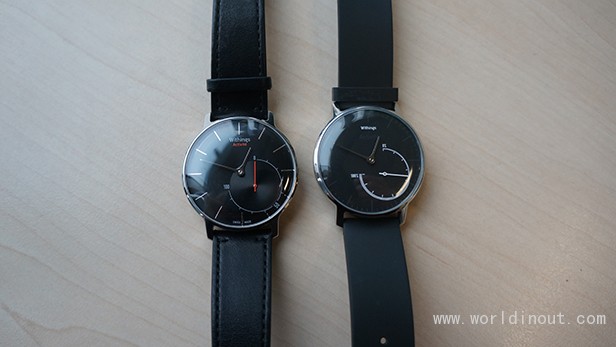 Related: Best Fitness and Activity Trackers 2015
The watch face has been modified; the progress-tracking dial is now thicker, more prominent, and segmented. The change makes it much easier to see your progress at a glance. To that end, Withings has also faded out the 1-12 hour markers. It's now harder to forget that this is a tracker, not just a timepiece.
The Activité Steel's face is also entirely monochrome, losing the orange trim of the Activité – a disappointing loss of character, although that's simply my opinion.
So which watch looks nicest? There was a huge gulf between the Activité and Activité Pop – the former was significantly more luxurious than the latter. That gulf is near non-existent with the Activité and Activité Steel. The new device looks classy; it's only really let down by the budget watchstrap. The bezel on the Activité Steel also appears to intrude onto the face ever so slightly more than on the Activité, if only by a millimetre.
image: http://img.worldinout.com/img/201512/16/134146794.jpeg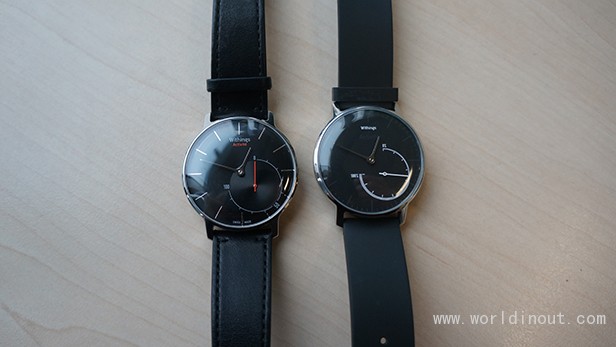 Withings Activité vs Withings Activité Steel
The Activité is prettier, if only slightly – but with a £180 price difference, you'll have to make up your own mind . After all, we're in the world of Swiss-made watches, where pricing isn't always proportionate to literal worth.
Related: Apple Watch vs Android Wear
Withings Activité Steel – Setup & Health Mate app
Like most vendors of wearables, Withings has its own dedicated software ecosystem. It's called the Withings Health Mate app, and it works across Withings' entire range of smart health products – including the Activité series.
The app was initially only available on iOS, but Withings expanded support to includeAndroid earlier this year. Windows 10 Mobile isn't yet supported, but the company's CEO Cedric Hutchings, speaking in September, told TrustedReviews that it would arrive "eventually". BlackBerry OS? Umm, moving on...
Setting up Health Mate – and the Activité Steel – is easy. Download the app from the App Store/Play Store, and you'll be prompted to select the device you've bought. once you've chosen Activité Steel, you'll have to prod a small button on the back of the device five times with a metal pin that's included in the box. This tells the watch that it needs to pair – via Bluetooth 4.0 – with your phone. Pairing takes less than a minute, and you'll need to do it only once.
image: http://img.worldinout.com/img/201512/16/134146584.jpeg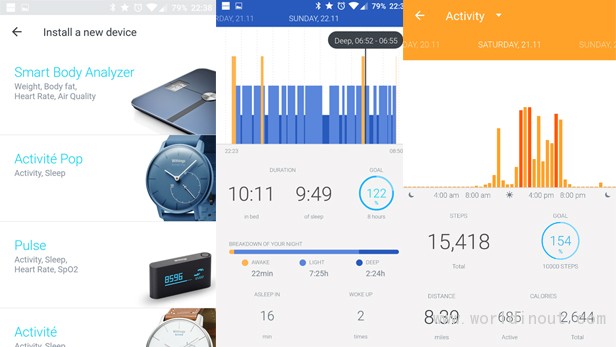 Device selection, sleep tracking, step tracking
From there, you're given the option to calibrate the minute/hour/tracker hands. It's a bit surreal watching the Activité Steel's hands move in relation to my finger spinning a dial on a smartphone – the future, ladies and gentlemen. After that, the watch will sync to your phone's time. As someone who travels often, it's great not having to remember to adjust my watch manually when moving between time zones.
From this point onward, all health activity is stored on the watch for 36 hours. If you don't sync the watch's data to Health Mate during that time, it's gone forever. once it's on Health Mate however, it's stored on the cloud and tied to your Withings account. The grace period for syncing is certainly long enough anyway; you'll struggle to miss the window.