Key Features
: Tracks steps and distance; Inactivity alerts; Calculates smart calories; Automatic sleep tracking; Smart notifications; Works with iOS and Android; Up to eight days' battery life; Rechargeable 38mAh battery; Works with Polar H7 heart-rate monitor chest strap
Manufacturer: Polar
What is the Polar Loop 2?
The Polar Loop 2 is the Finnish company's second-generation sub-£100 activity tracker. Following years of making sports watches and wireless heart-rate monitors, Polar decided to take on the likes of Fitbit, Jawbone and Misfit with its very own fitness band.
However, if you were hoping for a radical overhaul with the new Loop, think again. The design is near-identical design and uses the same built-in sensors to track activity. There are a few smartwatch-inspired features here as well, and the Loop 2 will play nice with iPhones, Android phones and Windows Phone smartphones.
As an upgrade, the Polar Loop 2 covers the basics. The question is whether this is enough. I'm not entirely convinced.
image: http://img.worldinout.com/img/201512/16/133723664.jpg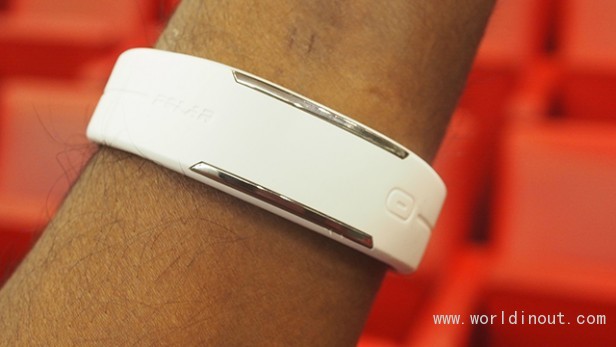 Polar Loop 2 – Design and Features
The Loop 2 is a spitting image of the original Loop. It has the same soft, rubbery silicone wristband and stainless-steel metal buckle to keep it securely around your wrist. Polar also offers a lighter, slimmer band – at only 2g – made from a TPU plastic. Either way, the Loop 2 is nowhere near as sleek as Jawbone's trackers, and many ways reminds me a lot of the Mio Fuse.
Polar offers the Loop 2 in Sorbet Pink, Powder White or a Swarovski crystal-emblazoned version, which inevitably makes it stand out more than its predecessor. This won't be a problem is you spend much of your time in gym clothes, but the watch will look out of place if you tend to dress smart on a daily basis.
On the top of the band sit two metal strips, flanking a dot matrix-style display that uses LED lights. The display looks very similar to that on the Nike Fuelband, and so as is the case with that one, suffers from the same visibility issues when you're trying to view it in bright sunlight.
There's only a single capacitive button alongside the display, which requires the softest of touches to scroll through the various screens. You can view time, calories burned and step count . There's an activity bar, too, which works in much the same way as the similar feature on Garmin's Vivofit trackers. In addition, it will also suggest activities that you could perform to help fill up that activity bar.
Related: Best Fitness Trackers 2015
image: http://img.worldinout.com/img/201512/16/133723834.jpg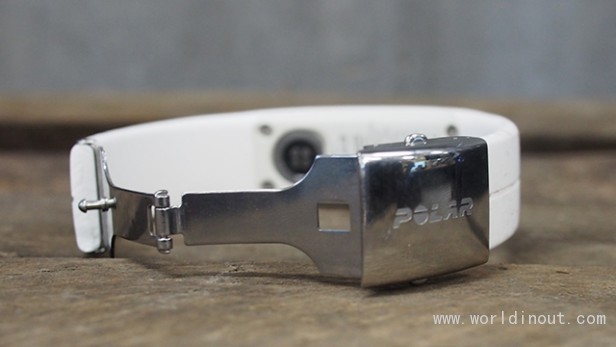 Like the original Loop, the Loop 2 is waterproof, so you can wear it in the shower or in the pool while you swim. Its 2ATM certification means it will survive being submerged in water up to 20m. This can't compete with the 5ATM certification of the Misfit Shine, but will be fine for most.
Around the back is the Loop 2's charging port, which annoyingly requires a proprietary charging cable. Unlike Fitbit or Jawbone's solutions, the cable fits securely in place, so you won't have to worry about it falling out during charging. Just keep it safe though, since there's no other way of powering it up.
Despite not being the most attractive of trackers, the Polar Loop 2 is light and comfortable to wear all day and night, and I had no issues with it falling off at any point. However, the first challenge will be to get the right fit, which is easier said than done – it's one of the fiddliest processes I've ever had to go through with a fitness tracker.
Like the original, it involves using a pair of scissors to first cut the bands to make sure it fits loosely around the wrist. There's a measuring tape tool provided in the instructions pamphlet to ensure you don't cut off too much. Combine this with lining up the pins and holding the buckle in place, and in total I spent around 30 minutes trying to get it right – swearing numerous times in the process. It's extremely frustrating.
image: http://img.worldinout.com/img/201512/16/133723834.jpg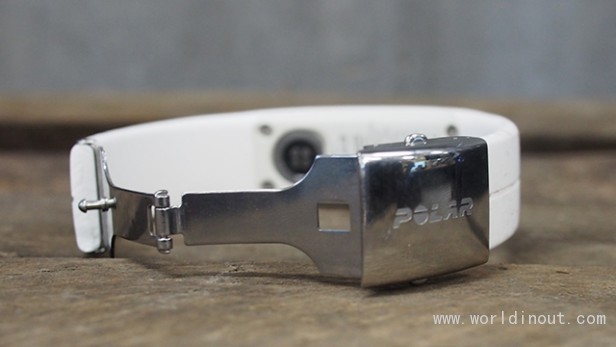 Polar Loop 2 – Polar Flow app
The Loop 2 will give you a glimpse at data, but for a more comprehensive look at your progress you need to access the Polar Flow smartphone and desktop application.
Polar has introduced third-party app support with the Loop 2, so you can integrate your data with fitness apps such as MyFitnessPal. In addition, it will work with Apple Health and Google Fit platforms too.
Polar offers smartphone support for iOS, Android and Windows Phone, but you'll need to set it up by hooking it up to a computer first – which seems a little archaic in this day and age.
once you've set up a Polar account and synced the Loop 2, you're free to download the app to sync and view data. I tried out the app on both an iPhone and an Android handset and I'm pleased to report that the experience was pretty consistent across both. Syncing data, however, has its moments.
image: http://img.worldinout.com/img/201512/16/133723324.jpg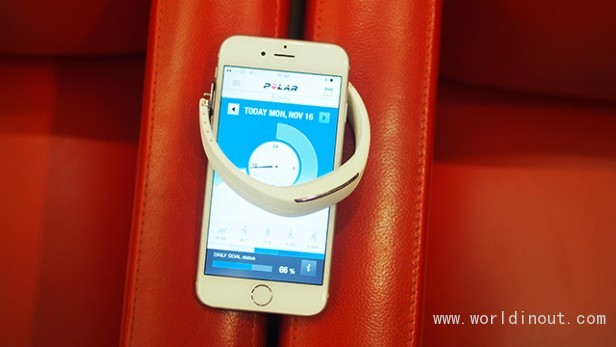 With Bluetooth enabled on the handset, you then tap the button on the Loop 2; now you need to wait for the screen to turn off before the syncing can occur. It sounds easy enough, but there were plenty of occasions where I was left staring at a loading wheel as my phone tried to find my Loop 2.
once you're in, you'll discover a mountain of information; it definitely lacks the more simplistic approach adopted by the likes of Fitbit and Jawbone. It'll take some time to get to work out what's useful and what's not.