The Health Mate app is split into four main sections: timeline, dashboard, leaderboard and profile. Aside from those, there are a few corollary sections such as My Devices, Settings and Withings Store – none of which are particularly complex.
The Timeline is Health Mate's main interface, and is a little like a Facebook News Feed for fitness. It offers details on today's progress, sleep and activity, as well as "insights" such as "today was your best so far". Badges, which are like achievements, also show up here. For instance, the "Loch Ness" badge means you've travelled 60 miles – a "tour of Loch Ness". You can also use the Timeline to set wake-up alarms and your target weight.
image: http://img.worldinout.com/img/201512/16/134253964.jpeg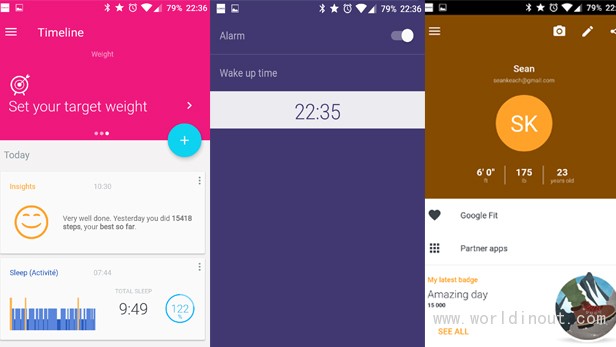 Timeline, Alarm, Profile
The Dashboard is where all of Health Mate's metrics are pulled together; activity, sleep, blood pressure, and so on. You can also scroll back through your history to check up on specific days. Dashboard also lets you dive deeper into your progress. For example, you can check how far you walked on a given day, how many calories you burned in total, and how many of those calories burned were specifically thanks to activity.
It also shows you how much progress you've made towards a goal. Maybe you hit 87% of your 10,000 steps goal, or achieved 32% of your 8-hours-per-night sleep target – the latter should worry you. You can also see how long it took you to get to sleep, how many times you woke up in the night, and a timeline of light versus deep sleep.
Leaderboard lets you track your fitness against that of your friends. But that's only actually useful if you want to compete with your mates. I like to keep my health a solo affair, so the Leaderboard was occupied by only a single occupant – me. That said, it does let you compare your entire week's activity to the previous week, which has its uses.
Related: Spotify Running: How does it work?
Finally, there's profile. You can upload a picture, enter your height, weight and age, and check out your badges. You'll also find a number of "total" metrics here, such as number of steps, distance, days higher than 10,000 steps, lowest and highest weight values, and "best day". You can use the Profile section to link partner apps to Health Mate as well.
That last bit is important, because partner apps are what really help Health Mate thrive. For instance, fans of Runkeeper will be glad to know that they can port activity straight between apps. A more recent addition is MyFitnessPal integration, which brings food-logging to the Withings ecosystem. Other available services include Google Fit, BodyMedia, Nest, and Nike+ FuelBand. While this isn't the most extensive list, it covers most bases; at the very least, the partnerships set a good precedent for the future.
image: http://img.worldinout.com/img/201512/16/134253614.jpeg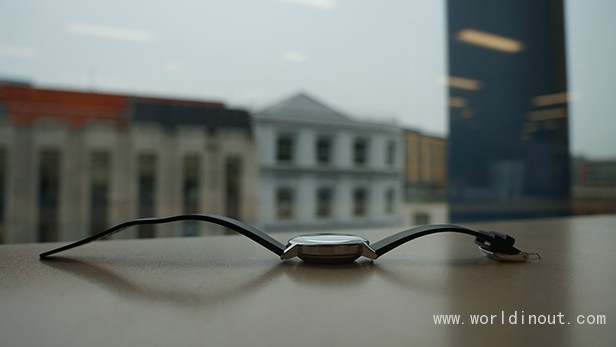 Unfortunately, you never really feel like you're getting the full experience from the Health Mate app without Withings' full suite of products. You're constantly reminded that you could be checking up on your weight with the smart scale, or heart with the blood-pressure monitor. If you've just splashed our £140 for the Activité Steel, the constant suggestion that you're not getting a full picture of your health is bound to annoy.
Moreover, the Health Mate app still doesn't feel entirely refined. Navigating the app is a little awkward, with certain features living in unexpected places. For instance, to find the alarm settings, you need to go into the timeline and swipe the top third of the screen left. once you know it's there, it's easy – but getting used to the whole layout of Health Mate is quite the head-scratcher.
There's also the issue of analysis versus advice; Withings has cracked the former, but not the latter. You can check out plenty of data, but there's little in the way of instruction to actually help you improve your health. That's a shame, particularly since Health Mate is capable of tracking so many different metrics. While there are some alerts that remind you to keep on moving during dry spells, it would be great to see Withings follow Jawbone's lead with some tailored recommendations in the future.
image: http://img.worldinout.com/img/201512/16/134253534.jpeg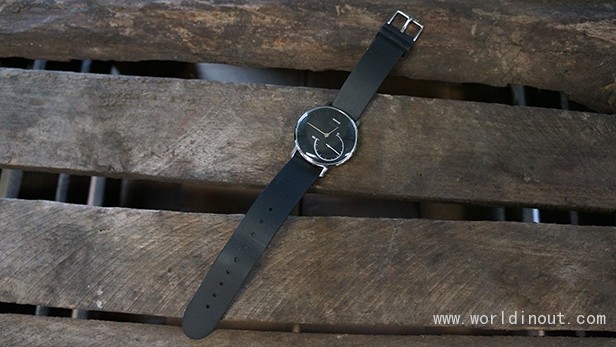 Related: Black Friday Deals 2015
Withings Activité Steel – Performance & Tracking
Flashy looks aside, the Withings Activité Steel is a great activity tracker. As previously mentioned, it's capable of measuring four specific activities – walking, running, swimming, and sleeping (although I'm not sure if the latter can really be called an "activity").
What's particularly impressive about the Withings Activité Steel is the seamless switching between activity tracking. When I wanted to track a swim, I didn't need to set the Activité Steel to a particular mode. I just went straight into the pool, did my laps, got out, and voilà – a tracked swim.
It's the same simple story for walking, running, and for falling asleep, which is tracked from the moment you get into bed. I'm not exactly sure how the algorithms for this wizardry work, but I can tell you that they work very well. I've never had the Activité Steel fail to recognise an activity – nor the Activité proper, for that matter.
But are they accurate? When I tried pacing 50 steps three separate times, I got 50, 50, and 49. Not bad at all. Running and swimming were notably accurate too – although I did suffer some "ghosting" issues.
The fact is that the Activité Steel is a wristwatch, which has inherent pitfalls. I've had very occasional short bouts of steps – moving between chairs in the living room, for instance – not tracked. Similarly, on one day I gained a couple of steps while sitting in my chair doing work. I also racked up some decent mileage by juggling with clubs – not exactly standard usage, mind. On the whole, though, the step-tracking will give you a sufficiently accurate readout of your distance travelled on a given day.
image: http://img.worldinout.com/img/201512/16/134253624.jpeg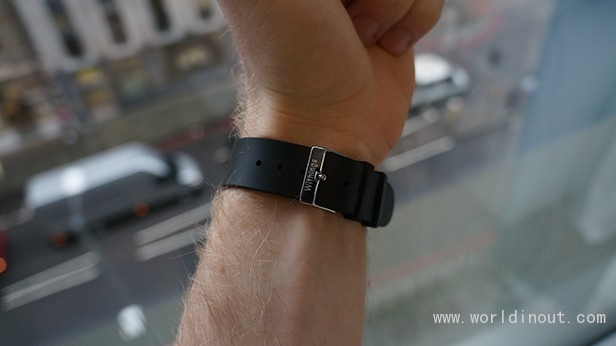 Related: Google Fit explained: What can it do?
Sleep-tracking was almost always on point, measuring nod-off time accurately. However, a few notable wake-ups were missed, including one that was independently verified by my girlfriend, who decided 4am was the perfect time to accuse me of hogging the sheets. All in the name of science, I suppose.
Another issue is the limited range of activities covered – for instance, walking, running, swimming and sleeping. That might sound broad-reaching, but it's little use to a cyclist who could spend hours on the bike and still appear lethargic on the Health Mate app. That said, swimming wasn't available at launch, so I wouldn't be surprised if cycling was added sometime down the line, courtesy of a software update.
Another feature is the alarm; no, there isn't a speaker on the Activité Steel. The alarm actually works through vibrations, which has a great advantage: it won't wake your partner up. There have been some complaints on the web about the vibration not being strong enough to wake you from a deep sleep. In my experience with both the Activité and Activité Steel, I've never had an issue waking up from the vibrations.
Finally, there's the battery life – a real winner for the Activité Steel. Unlike basically every other smartwatch on the market, the Activité Steel boasts an incredible 8-month battery life. There's no need to recharge either; it uses a standard watch battery, and Withings provides a spare in the box. If you need just one reason to buy the Activité Steel over another smartwatch, it's this. Unfortunately, I can't vouch for the battery life just yet – check back in 8 months.
image: http://img.worldinout.com/img/201512/16/134253824.jpeg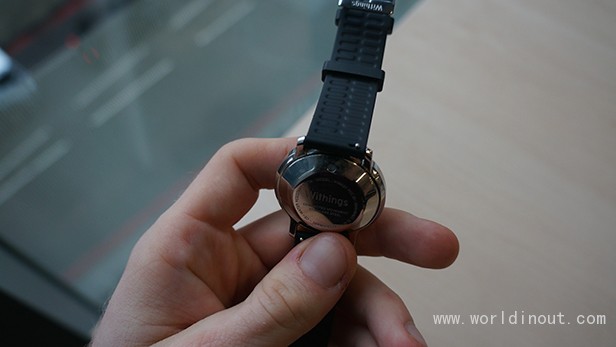 Related: New Microsoft Band Features
Should I buy the Withings Activité Steel?
If you want an activity tracker, and you like wearing a watch, then the Withings Activité Steel is probably perfect for you.
That said, you can also chose between the Withings Activité Pop (£119.95) and the Withings Activité (£320). The former errs more on the side of Swatch, so those who want a more playful timepiece might want to consider the Pop. The Activité, meanwhile, is a seriously fancy wearable, and will suit those for whom money is no object.
But if the Pop is a little too gaudy, and you're not willing to splash serious cash on a tracker, the Activité Steel is the perfect choice.
Of course, if you don't really mind charging your device daily, there's plenty of fun to be had with a more prosaic smartwatch, many of which retail between £150 and £300. Try the Apple Watch (£299), the LG Watch Urbane (£240), or the new Moto 360 (£230).
Similarly, if you don't need all of the faff of pricy Withings fare, and are happy to just strap a budget band to your wrist, check out the Jawbone UP24 (£30) or the Moov Now (£50).
All-in-all, the Activité Steel might not be as versatile as some fitness trackers, but the fact that this will replace your normal watch and save you from wearing an ungainly activity band is a serious winner. And at just £140, it's an incredible bargain.
Verdict
Marginally less chic than the Activité, but less than half the price; this is a high-performance fitness tracker for those who don't want to compromise on style.