Key Features
: 10 hours of battery life; 10m Bluetooth range; NFC connectivity; Music playback controls; Water- and sweat-resistant design; 40mm drivers; LED light to aid nighttime visibility; Washable removable ear cushions
Manufacturer: Philips
What is the Gibson Trainer?
The Gibson Trainer are wireless on-ear sports headphones endorsed by the fastest man on the planet. While I can't confirm whether the reigning 100m world-record-holder, Usain Bolt, wears a pair himself, I can tell you that these on-ears are clearly built for runners and gym lovers who don't want the more intrusive fit of in-ears when they're working out.
These headphones aren't only about the design, however. The Gibson Trainers feature built-in music controls, meaning you don't have to fiddle with your phone, and they're wrapped up in a package that promises a secure fit and added visibility for those nighttime sessions.
Priced at just under £200, they're not cheap – although they're in line with their closest competitors. With such a small group of wireless on-ears from which to make your choice right now, these are some of the best I've tried for some time – but they're not perfect.
Related: Best Headphones for Running
image: http://img.worldinout.com/img/201512/16/140249634.jpg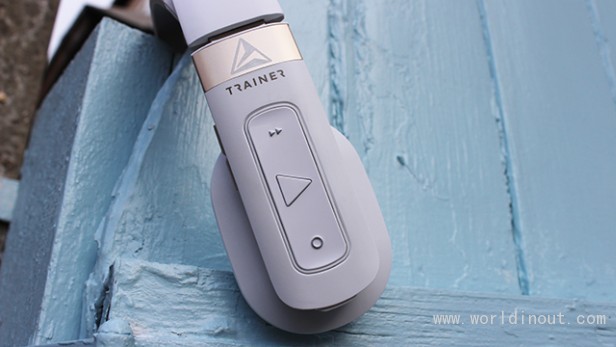 Gibson Trainer – Design and Comfort
It's tough to find a pair of on-ears that will remain in place and are comfortable to wear for long periods when you're working out – but I found both in the Monster iSport Freedom headphones I tested earlier this year.
The Trainers are a relatively small-framed set of headphones, clearly modelled on the onkyo Trainer sports headphones announced last year. Where these are different, however, is in their attempt to address that secure fit issue.
Concealed beneath the matte-plastic frame is a rubbery headband, which builds in a flexible portion that you can flick back to help prevent the headphones from moving around. You can do this manually, or by pressing the small button featuring Usain Bolt in his signature lightning-bolt pose.
It's a surprisingly sleek solution, and works to increase the comfort levels of the headphones too. The slightly clamp-like fit won't be for everyone, though, and is definitely better suited to running than exercise where movement is isolated. You can of course leave the headband tucked in, but having tried that I'd suggest going with the former option so that you're not left constantly fiddling around with it.
The Trainers are available in only black or white, with Gibson shunning the bright colours usually associated with sports headphones. However, you needn't worry about whether or not you'll be seen if you're out running as the light fades. At the rear of the headphones, alongside the left ear cup, sits a strip of LEDs that flash when the headphones are powered on. There's also a reflective strip on the retractable headband.
The headphones offer water- and sweat-resistance, so they'll be fine if you're caught out in the rain, plus the removable ear cushions can be dipped in soapy water for 10-15 minutes for a clean. Those tall, meshy cushions feature NASA technology, claiming to take moisture away from the surface based on the changing temperature of your skin. In my experience, I found that the Trainers didn't get very sweaty or sticky, which can often be the case with on-ears.
image: http://img.worldinout.com/img/201512/16/140249544.jpg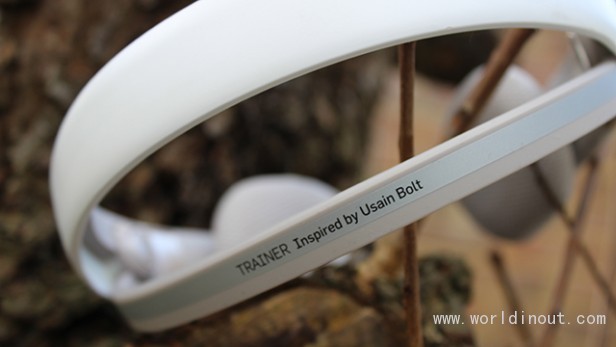 The headphones have a number of buttons, most of which are situated around the ear pad on the right. On the outside you'll find a skip forward, play and a on/off button. Bizarrely, there's no dedicated button to skip back a track. So you need to double tap the skip forward button if you want to listen to a motivational track again.
The volume up and down buttons are tucked quite tightly behind the ear pad, and since they're so close together, using them on the move becomes a very fiddly process. Lastly, you'll find two more buttons up front to turn the headphones on and to sync them with your phone over Bluetooth.
There's no wired listening option here, with the micro-USB charging port positioned at the bottom of the right ear pad. Battery life is claimed to be around 10 hours, and over the course of the couple of weeks that I've been using them, I'd say this is fairly accurate.
image: http://img.worldinout.com/img/201512/16/140249714.jpg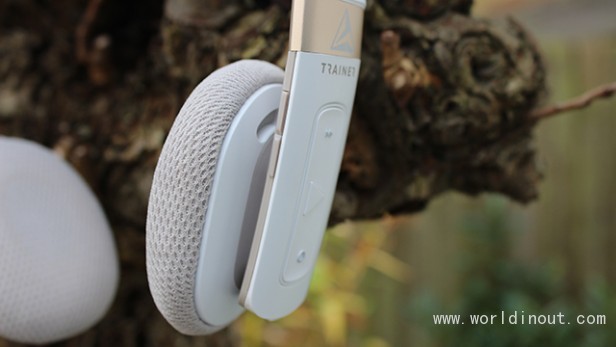 Gibson Trainer – Sound Quality
Unfortunately, the days of poor-sounding sports headphones aren't quite behind us, but things are getting better – if you're willing to spend a bit of money. Gibson finds itself in company with a number of top-notch audio brands, including Philips with its Fidelio range, to which the Trainers sound fairly similar. They're great-sounding sports headphones, but by no means the best I've heard.
The 40mm drivers powering performance don't produce outstanding audio clarity, but mids and highs do generally impress. There's satisfying, albeit not excessive, warmth in the bass department as well. As a result, if you like training to high-tempo tracks then the Gibson Trainer headphones will be a good fit. There's no distortion or harshness at high volumes either – but there is another problem.
The Trainers aren't great for sound isolation, which, in general, has never been a strong point for headphones. In the case of the Trainer headphones, be aware that you will be sharing your audio with fellow runners or gym-goers.
If your workout session is interrupted by a phone call, you'll be pleased to know that there's a built-in microphone situated near to the micro-USB charging port, which offers strong call quality – a nice addition.
For £200, it is possible to pick up more impressive-sounding headphones, especially if the plan isn't to use them for working out. When compared with other wireless Bluetooth on-ears, however, the Gibson Trainers certainly do a solid job.
image: http://img.worldinout.com/img/201512/16/140249784.jpg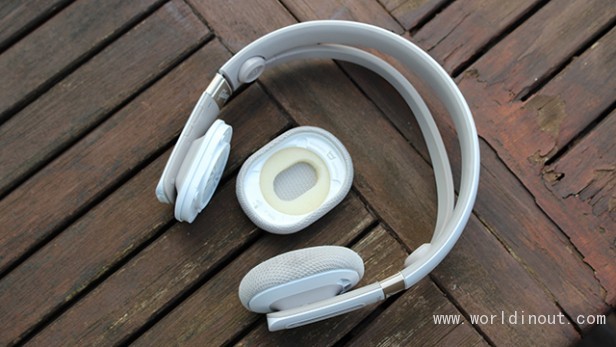 Should I buy the Gibson Trainer?
With such a lack of great on-ear sports headphones on the market, the Trainers are arguably the best option out there right now. They address some of the most prominent issues affecting this style of headphones for working out. They're comfortable, sit securely on your head and both the weather-resistant design and visibility features are welcome inclusions too.
They're not perfect, however. While sound quality will be good enough for most, it's nowhere near as impressive as that produced by sporting in-ears such as the Jabra Pulse or Monster iSport SuperSlim.
Overall, I was pleased with the Trainers and with a few tweaks they could well become the go to on-ears to throw into your gym bag.
Verdict
The Gibson Trainer headphones are feature-packed Bluetooth on-ears that runners will love – but serious audiophiles will be left wanting.