Microsoft Surface Pro 4 – Performance
Microsoft is offering the Surface Pro 4 in sixth-generation Intel Core M, Core i5 and Core i7 options. The M version comes with Intel HD graphics 515, while the i5 comes with slightly more powerful Intel HD graphics 520. The top i7 variant comes with Intel HD graphics 540. Adding further complexity to the mix, you can also load the Pro 4 with 4GB, 8GB or 16GB of RAM. I tested the Core i5 model with 8GB of RAM.
The model benchmarked fairly well. The Surface Pro 4 ran in with a 6,727 multi-core Geekbench score. On the graphics intensive 3DMark: Cloud Gate, it scored a solid 6,019. Neither scores are groundbreaking, but they put the Pro 4 on a par with most top-end 2015 convertible tablets and well above its 2014 predecessor. By comparison, the Surface Pro 3 scored 3,491 in Geekbench.
The benchmarks proved accurate with real-world use, and the Surface Pro 4 delivers solidly impressive performance. Using the unit as my primary tablet and laptop, I didn't notice any serious performance jitters. The Surface loaded web pages instantly, ran applications smoothly, and proved capable of playing Steam games, such as Deathwatch: Tyranid Invasion and Divinity Original Sin, chug free – if the graphics settings weren't maxed.
Microsoft Surface Pro 4 – Camera
I've never been a fan of taking photos on tablets for a variety of reasons. The plus-sized dimensions of many a device make capturing images a cumbersome, awkward affair. Most tablets also feature woefully poor sensors that at best can capture usable, not great photos.
The Surface Pro 4's 8-megapixel rear camera hasn't done anything to change my opinion, but by tablet standards it's fairly good. Shooting in regular light, images taken on the Pro 4 are sharp enough to share on social networks. Colours aren't overtly vibrant or rich, but aren't the worst I've seen either. Low-light performance is a write-off, but this is the case on all the laptop and tablet cameras I've tested.
image: http://img.worldinout.com/img/201512/16/135408254.jpg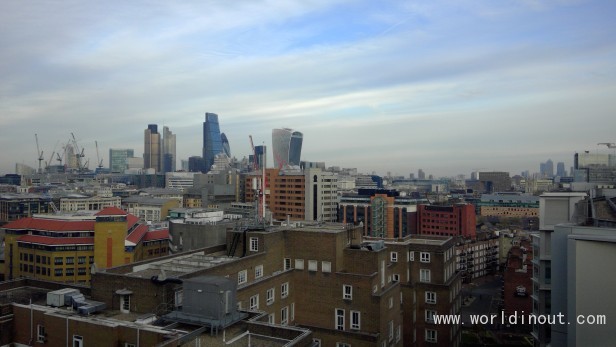 It won't match most smartphones, but the Pro 4's camera is pretty good for a tablet
The Surface's 5-megapixel front camera is a little more interesting. It comes loaded with Microsoft's Windows Hello feature, which pairs the main camera with a separate sensor that can read spatial information. The Surface uses the tech to scan and record registered users' faces. once scanned, the Surface in theory will automatically unlock when it detects a registered user's face – removing the need for you to enter your password each time you turn it on.
The feature is a great addition that makes it quicker and easier to secure the Surface Pro 4 and in general works very well. However, on a few occasions WIndows Hello would act up and refuse to recognise my face. In these instances I had to wait a good two minutes for the Pro 4 to give up on Windows Hello and let me manually enter my password.
The 5-megapixel camera can be used to take selfies, although photo quality is sub-par compared to most smartphones. However, it's more than good enough for video calling on Skype and Google Hangouts.
Microsoft Surface Pro 4 – Battery
Microsoft quotes the Surface Pro 4 as having the same nine-hour mixed-use battery life as the Surface Pro 3.
With average use, and the screen brightness in the recommended setting, Microsoft's quoted life rang true. Regular use entailed using the Surface Pro 4 as my primary home and work machine, checking emails and social media feeds throughout the day, sporadically browsing the web, watching a few episodes of Gilmore Girls on Netflix and half an hour of casual gaming.
image: http://img.worldinout.com/img/201512/16/135408904.jpg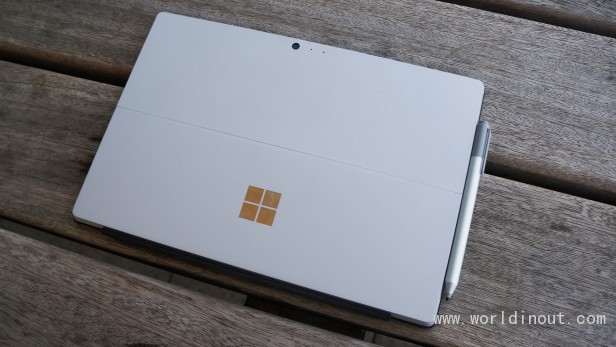 With more demanding tasks, the battery life dropped. When streaming videos on Netflix, the Surface Pro 4 discharged between 13-17% per hour. This isn't great by iPad and Android tablet standards, but is pretty impressive for a Windows device. Other Windows tablets I've tested generally discharge between 15-25% per hour when video streaming.
Gaming was similarly draining on the Surface Pro 4. Playing moderately demanding titles such as Deathwatch and Divinity, the Pro discharged between 18-25% of its battery. This is solid by laptop standards, but slightly below average for a tablet.
Microsoft Surface Pro 4 – Sound Quality
The Surface Pro 4's stereo speakers with Dolby Audio aren't powerful enough to compete with a dedicated sound system or Bluetooth speaker. But, they are well above average for a tablet or laptop.
The speakers are more than loud enough on which to watch Netflix. Sound quality is also pretty good, and the speakers don't overly push the high end. Bass levels are decent and provide a suitably immersive sound experience when watching movies or TV shows in close proximity to the tablet.
However, they're not entirely up to scratch for serious music listening. Sound quality deteriorates the moment you move away from the front of the tablet. Listening to Jimi Hendrix's stellar "Electric Ladyland", the Pro 4's speakers were okay when sitting close and directly in front of the tablet. However, when I moved even a couple of feet away the music quality dropped and Hendrix's guitar began to take on an unpleasant tinny quality.
image: http://img.worldinout.com/img/201512/16/135408114.jpg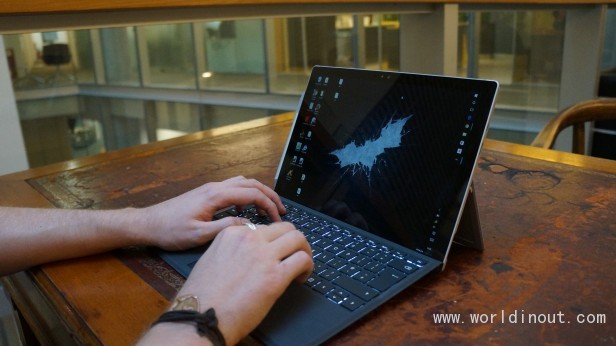 Should I buy the Microsoft Surface Pro 4?
If you have the money, the Surface Pro 4 is the best Windows 10 tablet available. It offers a bright, crisp display, great performance and solid build quality. Paired with its Surface Pen and optional Type Cover, the Surface Pro 4 becomes a fully functioning laptop that will meet most people's personal and work needs.
However, I'm not completely sold on its value as a professional design tool. The fact that Microsoft is also charging an extra £110 for the Type Cover, where most other PC and tablet makers are offering keyboards for free is also an annoyance. Buyers on a strict budget who don't need top-end performance could find a better deal with one of Asus' Transformer Books, or Microsoft's own Surface 3.
Verdict
The Surface Pro 4 is the best Windows tablet ever made.