Surface Pro 4 – Surface Pen and Type Cover
The series of subtle, but important changes carries over to the Surface Pro 4's Surface Pen and optional Type Cover.
The Pro 4's Surface Pen is bundled free with the tablet. Like the Pro 3, it's based on N-Trig, as opposed to the more common Wacom stylus technology. This initially left me a little concerned.
While the N-Trig tech is up to task for basic notation in OneNote, latency issues made doodling and design work a painful process on the Pro 3. These issues were later fixed, however.
image: http://img.worldinout.com/img/201512/16/135232694.jpg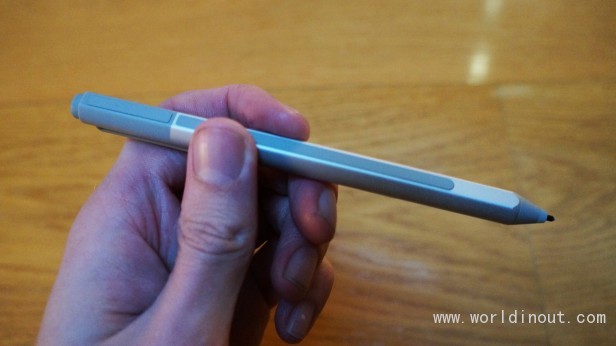 Microsoft claims it has solved the latency issues on the Pro 4's Surface Pen and added a number of nifty features to improve its usability as a design tool. For starters, the firm has improved its pressure-sensitivity levels – the Pro 4 Surface Pen can recognise a staggering 1,024 pressure levels.
Artists can even swap out the pen's nibs. Options include the bundled all-round HB tip, sketching focused B tip, the H tip for technical drawing, and the 2H tip for scrawling speed.
The pen also features robust palm-detection technology. The tech instructs the touch Surface to ignore everything but the pen's inputs when the stylus is near the screen – meaning you can rest your palm on the screen when sketching or taking notes as you would on a normal piece of paper.
As a final perk Microsoft has ditched the Surface Pro 3 pen's three-button format. Instead, the Pro 4 has a single, long select key that runs along the stylus' side with function control on its top.
The top button is used to activate various shortcuts on the Pro 4. A single press will launch OneNote, a double tap will take a screen grab and a long press will activate Microsoft's digital assistant Cortana.
I definitely noticed a difference using the Pro 4's pen for digital painting. Doodling a couple of comic pages, the pen felt more reactive and significantly less laggy. The 2H tip also offers slightly more resistance than the Pro 3's pen, making it feel more like an actual pencil.
image: http://img.worldinout.com/img/201512/16/135232564.jpg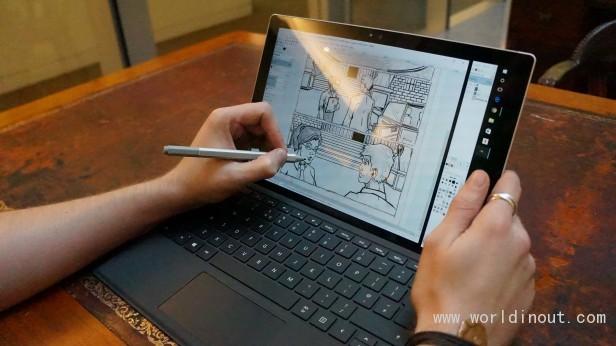 However, I did notice a few flies in the ointment. Using the Surface Pen for digital painting in GIMP, Krita and Anime Studio, the stylus felt a little less responsive than I'd have liked. I noticed a couple of bugs, too. On one occasion the stylus inexplicably started to randomly register commands when the pen wasn't touching the screen. Luckily, the pen returned to normal after I removed the Surface Pen's battery and manually reset it.
Painting in GIMP, the pen also occasionally stalled and refused to recognise commands for up to 20 seconds. Adding insult to injury, it would then enact every frantic tap I'd made trying to spur it back to life.
Thankfully, the improvements that Microsoft has made to the Pro 4's Type Cover are more consistently impressive. Microsoft Type Cover keyboards have always been a sticking point for buyers – and for good reason. Past Surface Type Cover keyboards have suffered terrible travel, unresponsive keys and squished, unreactive trackpads.
The Surface Pro 4's Type Cover fixes many of these issues. Keys are now separated, as they are on regular laptop keyboards. The backlit keys also have significantly better travel and have a clicky, reactive feel compared to Microsoft's previous efforts.
The trackpad has been improved, too, albeit not to the same extent. It's now bigger than the Surface Pro 3's and feels slightly more reactive. Again, the improvements sound small, but they add up to make the Type Cover a key selling point for the Pro 4. All in all, it delivers a true laptop level typing experience.
My only issue with the keyboard is that, once again, Microsoft has chosen not to bundle it with the Surface Pro 4. Instead, you'll have to shell out a whopping £110 extra to enjoy its benefits. Competing similarly priced convertibles – such as the Dell XPS 12, or HP Elite x2 – come with keyboards, and the Surface Pro 4 really should do too.
Microsoft Surface Pro 4 – Display
The Surface Pro 4 comes loaded with a 12.3-inch PixelSense display. For general consumers, the display is excellent. The screen's 2,736 x 1,824 resolution and 267 pixel-per-inch density ensures text and icons consistently look sharp.
To the naked eye, colours and brightness levels are also excellent. Blacks are deep, whites look clean, and I didn't notice any backlight bleed on the Surface Pro 4. Testing the screen with a colorimeter, my opening impressions rang true.
image: http://img.worldinout.com/img/201512/16/135232934.jpg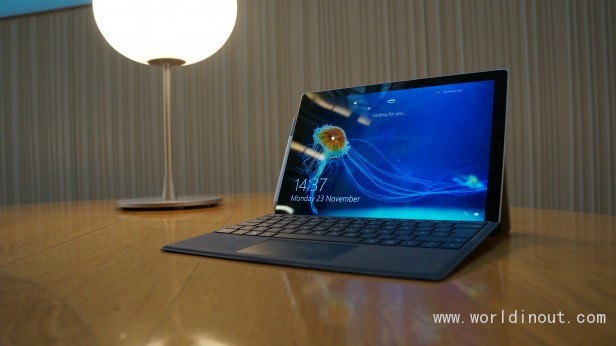 Microsoft quotes the Surface Pro 4 screen as covering 100% of the sRGB colour spectrum – the colour space most displays are calibrated to. In reality, my review unit's screen covered 96.2% of the sRGB spectrum – still pretty impressive. The screen ran in with a decent, but slightly warm 6,946K colour temperature – 6,500K is the ideal.
The Surface Pro 4's screen also features a stellar 0.67 Delta E average. For non techies, Delta E measures the distance between colours; any score floating around or below 1.0 is excellent.
Designers, once again, will be disappointed. The Surface Pro 4's screen covers only 68.3% of the Adobe RGB colour space. The Adobe RGB is the colour standard used by many creative professionals for digital photography and design work. By common laptop and tablet standards 68.3% is pretty standard, but I'd expect any serious design tool to cover at least 90% of the spectrum.
Microsoft Surface Pro 4 – Software
Microsoft's use of a completely untouched version of Windows for its Surface tablet Is a constant draw for the series. Competing products from Asus, Acer, Dell and HP almost always come loaded with some form of bloatware. Software included with the Surface range, by comparison, is completely untouched and comes out of the box exactly as Microsoft intended.
The trend continues on the Surface Pro 4, which comes running Microsoft's latest Windows 10 Pro operating system.